black forest trees sway
cicadas sing snow melted
not empty, listen!
haiku by M. Nakazato LaFreniere
On Heeding Haiku With Chèvrefeuille, he encourages us to create a haiku that is a crossroads between these two from Basho:
from a treetop
emptiness dropped down
in a cicada shell
black forest
whatever you may say
a morning of snow
However black forest always makes me think of cake so I thought I'd add another senryu for fun:
black forest cake stands
kirsch cherries, snowy cream top
you say, empty plates?
senryu by M. Nakazato LaFreniere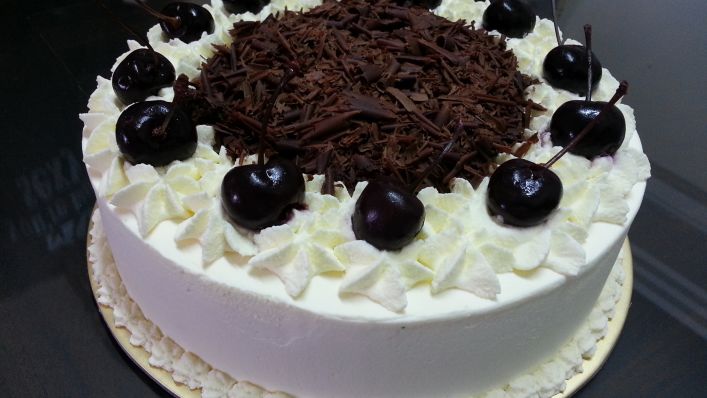 I saw this Authentic Black Forest Cake (Schwarzwald Kirsch Kuchen) recipe by Bekah_Goertzen.  It looked really yummy.  Since they have Pinterest and Facebook buttons, I'm assuming it's ok to share their pic with a linkback.
This brand only has one medium roast coffee sourced from the Tarrazu mountain region of Costa Rica. From their website, in late 2017 Snatched Coffee founder Steve had an idea for a fan-focused Costa Rican coffee and here we are. It's sold exclusively online and through affiliates like me.

Even though I'm more of a deep roast kind of gal, I'm going to order a small bag as I am curious to try it.  I'll let you know how the taste test goes. I'm really into coffee so am eagerly awaiting this.  I've read a few reviews and it sounds really good although on the light side.

To me poetry and cafes go together so I'll be looking at coffee and tea affiliates particularly.

Here is the danger for me and affiliates.  I am picking the ones peaking my interest like comic books (they turned me down — boo hoo) and For The Gourmet which has cheesecake lollis and smoked shoyu (soy sauce)!

I should go to the healthcare and special diet section but instead I'm rooting around in the chocolates and bakery, of course.

References:
May 16th 2018 … crossroads
Heeding Haiku With Chèvrefeuille
Mindlovemisery's Menagerie
Authentic Black Forest Cake (Schwarzwald Kirsch Kuchen)
Recipe by Bekah_Goertzen
Genius Kitchen
Affiliates Disclosure: As an affiliate for companies, I may receive a commission if you click a banner or text link on this page and purchase something or enroll in their program. I use shareasale.com which streamlines the application process for a wide variety of merchants with affiliate programs.  (FYI if you also decide to do this too, FTC requires affiliate disclosure.)